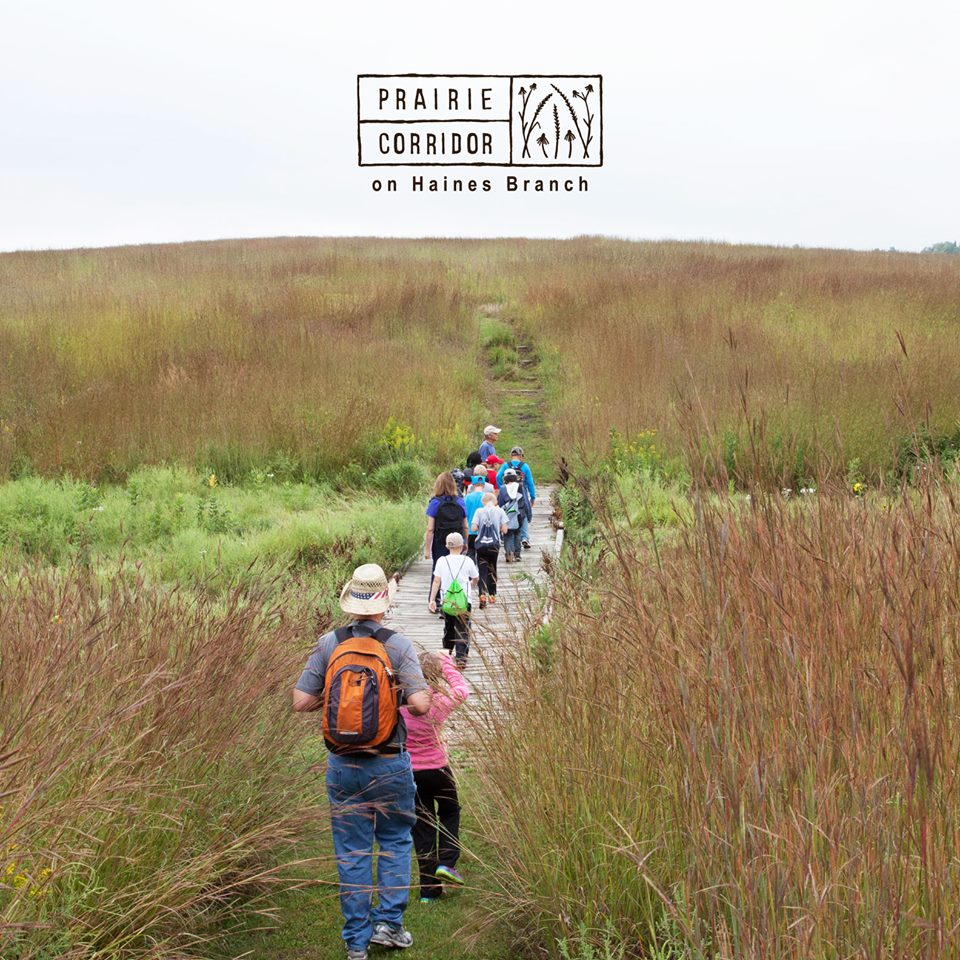 Haines Branch Corridor
The Prairie Corridor on Haines Branch is a tallgrass prairie passage and trail that will build on our nationally recognized trail and greenway system and will link two of Lincoln and Lancaster County's premier environmental resource and education centers. It will follow the Haines Branch of Salt Creek from the Pioneers Park Nature Center, to the Conestoga Lake State Recreation Area, extend down through the Village of Denton and on to the Spring Creek Prairie Audubon Center. The Corridor will support economic development, build on Lincoln's nationally recognized trail system, support environmental education and promote the enhancement and preservation of one of Nebraska's most valuable resources–tallgrass prairie.
---
Conservation:
Lincoln and Lancaster County are located in the Tallgrass Prairie Ecoregion, which was historically covered by native tallgrass prairie and home to bison, antelope, grassland birds, and many other plants and animals. The tallgrass prairie contributed to the fertile soils that resulted in productive farming within the region. This tallgrass prairie is a remarkable, and unfortunately now rare, part of our natural heritage.
Trails:
Lincoln enjoys a rich legacy of linear parks, trails and greenways with over 157 miles of trails in the Lincoln area. The Prairie Corridor trail will be part of this interconnected network of recreational and commuter trails for the Lincoln area.
Outreach and Education:
The Prairie Corridor will promote awareness, understanding, and stewardship of the natural environment by building on the outstanding outreach and education already offered by the Pioneers Park Nature Center and Spring Creek Prairie Audubon Center. This includes school hikes, nature camps, the Prairie Immersion school program, and a wide range of public programs for all ages.
Habitat Development: 
The Prairie Corridor presents a unique opportunity to develop diverse, resilient species-rich habitat in urban-rural fringe area. Realizing the vision of the Prairie Corridor will maintain and enhance ecological integrity, biological diversity, and high quality water resources.
Economic Opportunity: 
Ecotourism is an important part of the state's economic strategy. The Nebraska Department of Economic Development cites a clean environment, recreational trails and wildlife-associated recreational opportunities, as key quality of life advantages that Nebraska has to offer. The Nebraska Natural Legacy Project notes that several of the state's top tourist attractions are outdoors in nature and provide conservation, education and recreation opportunities.
Research: 
The Prairie Corridor project will help increase the knowledge base regarding the preservation and enhancement of a species-rich, resilient tallgrass prairie. Researchers hope to develop a better understanding of how composition, size and shape of various prairie areas contribute to diversity, resiliency, and species richness, and improve the understanding of habitat needs for pollinator species.