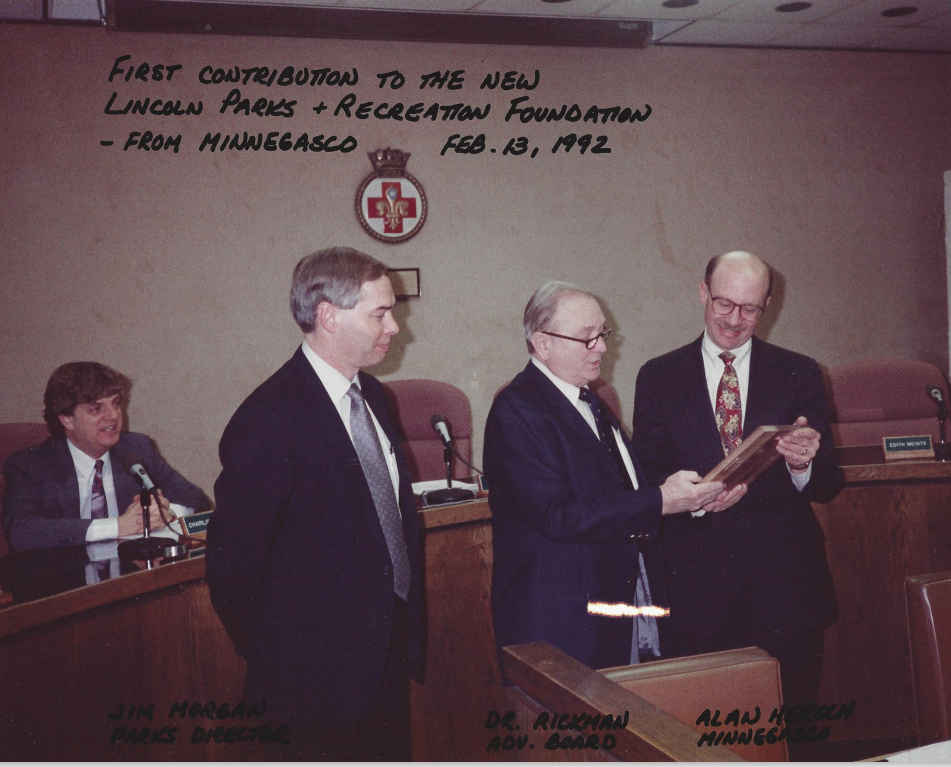 Mission Statement
To inspire and nurture a philanthropic legacy for parks and recreation in our community.
About Us
Lincoln has an impressive community wide parks and recreation system that includes 128 parks, 85 playgrounds, 133 miles of trails,10 pools, 5 recreation centers, and 5 public golf courses. Excellent amenities like these are important for our community's strong quality of life and economic development.

As a private 501 (c) 3 non profit organization we work in partnership with the Lincoln Parks and Recreation Department. The Lincoln Parks Foundation enlists the help of individuals, corporate donors, and other charitable foundations in our efforts to sustain and improve our excellent parks system. Private support is essential. Every dollar counts. Thank you for your generosity and kindness!
Lincoln Parks Foundation Through the Years
History
The Lincoln Parks Foundation was founded in 1992 by Clancy Woolman, Bill Blake, Dr. James Rickman, Marilyn Olson, Fred R. "Bob" Sikyta, Robert A. Helm, Arlan Stromberg, Phyllis Pauley, and M.E. "Bus" Whitehead.  As a private 501 (c) 3 nonprofit organization we inspire and nurture a philanthropic legacy for parks and recreation in our community.
Past successful campaigns include a $1.7 million renovation Sunken Gardens, a $350,000 renovation of Antelope Park Rose Garden, a $4.75 million capital campaign for Union Plaza, a $2.2 million renovation of historic Sherman Field, creation of the beautiful Lincoln Community Foundation Tower Square and a $9.6 million capital campaign to Revitalize Nebraska's Centennial Mall. Current projects include Mini Grants for neighborhood parks, Parker Pals scholarships for children to attend recreation center programs and swimming lessons, a $5.6 million campaign to renovate Woods Tennis Center, and the development of a tall grass Prairie Corridor on Haines Branch.
2021
Launched fundraising campaign "It's Your Wilderness" for Wilderness Park
Ribbon cutting for improvements at Schroder Park & Wellness Campus
Sponsored multiple free concerts in parks as part of Lincoln Crossroads Music Festival
Completed fundraising on four-year campaign to rehabilitate pathway at Trendwood Park
2020
Successfully launched and completed fundraising campaign for the renovation of Cascade Fountain
Renovated the World War II section of Veterans Memorial Garden, including 2,727 bricks
Launched campaign for replacement of Air Park Recreation Center
Year 2 of Hub & Soul Concert Series at Union Plaza
Formation of Solidago Conservancy, a new land trust affiliated with Lincoln Parks Foundation
Ribbon cutting for new Wilderness Nature Camp building at Pioneers Park Nature Center
Hired third employee to assist with Tributes & Memorials program
Established second endowment to provide funds for Sunken Gardens
2019
Launched the Hub & Soul Concert Series at Union Plaza in partnership with the Hub Cafe
Updated our Strategic Plan in partnership with Walther-Seck
Dedicated the Stiefel-Johnson Trailhead along the Prairie Corridor
Assisted in the development of plans for South Haymarket Park & Plaza
Led a community survey for the future of Cascade Fountain, with 7,540 members of the public participating
2018
Formally began fundraising campaign for the Prairie Corridor on Haines Branch with Steering Committee and project partners: Lincoln Parks & Recreation Department, Spring Creek Prairie Audubon Center, and Lower Platte South NRD.
Received 5-year pledge of support for City Golf and public basketball courts from U-STOP/Whitehead Oil
Received the Mayor's Art Award for Centennial Mall Renovations from the Lincoln Arts Council
Dedicated the Doolittle Memorial at Veterans Memorial Garden
Hired second full-time employee to handle finances and accounting
Served as project sponsor/supervisor for 2 collegiate programs: Nebraska Wesleyan undergraduate student in communication studies and UNL graduate students in advertising and marketing.
2017
Completed fundraising and dedicated two new public dog runs/rehabilitated two dog runs with support from the Friends of the Lincoln Dog Parks
Announced the Prairie Corridor on Haines Branch legacy project
Organized the Prairie Corridor Cabinet, a diverse group of community leaders who will guide the project
Hired first full-time Executive Director in the organization's history
2016
Celebrated the completion and dedication of six new dedicated pickleball courts at Peterson Park
Completed the $6.3 million campaign Taking the Game to the Community-to build six new indoor tennis courts, with amenities, at Woods Park Tennis Center.
Celebrated the renovation and dedication of Wohlfarth Corner-improvements at South Street and Capitol Parkway, donated by the Wohlfarth family.
Celebrated the completion and dedication of the newly renovated Centennial Mall. 
2015
Celebrated the dedication of the Airport Entryway improvements, which included adding district markers, native prairie plantings, irrigation, banners, trees and a sculpture.
Held our 23rd Annual Golf Tournament at Pioneers Golf Course. 
Celebrated improvements in the Woodsdale Boulevard medians, between 24th and 27th Streets, thanks to generous community members Mary and Doug Carper.
Held an appreciation event for donors and for volunteers at the Sunken Gardens to commemorate the 10 year anniversary of the renovation.
Enjoyed a full year of social media interns thanks to the generosity of local company Hurrdat. 
Mini grants assisted in funding six community projects.
2014
Celebrated the dedication and completion of Lincoln Community Foundation Tower Square.
Began a $5.6 million campaign to build a permanent structure at Woods Tennis Center.
Held our 22nd Annual Golf Tournament at Holmes Golf Course.
Completed a fundraising campaign for beautification along the Airport Entryway. 
Neighborhood mini grants provided $4800 in improvements in neighborhood parks.
2013
Completed a $9.6 million campaign to Revitalize Nebraska's Centennial Mall
Completed a $2.6 million campaign to establish Civic Plaza which will host vibrant programming and world renowned art installations in the heart of downtown
Celebrated the grand opening of Sherman Field at Sampson Park capping a $2.2 million campaign to preserve history and provide modern amenities
Planted 300 new trees in Pioneers Park with 600 Boy Scouts of America volunteers
Neighborhood Park Mini Grants leveraged almost $8,000 in new funding for our beloved neighborhood parks
2012
Secured an $800,000 state appropriation for the Revitalizing Centennial Mall project
Secured a $400,000 donation from the Lancaster County Board of Commissioners for the Revitalizing Centennial Mall project
Announced Lincoln Cares Expansion and $2 for Trees program
Hosted Union Plaza Grand Opening
Hosted first of its kind Lincoln Parks Family Challenge Adventure Race
2011
Secured unanimous support from the Capitol Environs Commission and the state Capitol Commission for the Revitalizing Centennial Mall renovation campaign and design
Hosted 'A Night at Pinewood Bowl' wherein 200 guests and Lincoln notables joined us for an elegant evening in support of our beautiful public spaces
Hosted Tree Week in partnership with the City of Lincoln and private corporate partner Finke Gardens to celebrate and encourage tree planting activities. Events included a tree planting demonstration, over 100 matching fund vouchers for street trees destroyed by summer storm damage, and facilitated volunteer tree planting activities of 200 trees at Pioneers Park
Initiated inaugural round of neighborhood park Mini Grants. Awards include $300 to neighbors at Rudge Park to buy gas for park mowing, $600 to Witherbee Neighborhood Association to purchase bulbs for spring flowers, and 87 $50 tree voucher mini grants to various individuals to replant approximately 111 public street trees damaged by summer storms
Announced public phase of $2.2 million Sherman Field Forever Campaign and named park at Sherman Field 'Sampson Park' to recognize lead donor and local family
2010
Foundation partners with the City and the Abel family to complete a $268,000 renovation and reopening of Hazel Abel Park
Foundation receives $600,000 gift from the Lincoln Community Foundation, on behalf of the Sheila Dickinson Dinsmore Graf and Burket Graf Fund. The donation to the Lincoln Parks Foundation is the largest in the Lincoln Community Foundation's history to pay for the outdoor amphitheater and surrounding trails at Union Plaza
John Sampson donates $400,000 to Sherman Field Forever campaign
Women Air force Service Pilots Memorial Dedicated at Veterans Memorial Garden
2009
Foundation receives $392,000 in three gifts from the Kenneth J. Good Estate to support amenities at Union Plaza, establish Legacy Tree Program, and fund first of its kind Public Gardens Horticulture internship
Legacy Tree Program established at Antelope Park & Mahoney Park
Foundation receives $30,000 donation from Burlington Northern Santa Fe Railway Co. for Union Plaza
Lincoln Parks Foundation chosen as newest matching sponsor for Lincoln Cares. Lincoln Parks Foundation will provide a 50 cent match for every dollar contributed up to $15,000 per year
2008
Announced $4.75 million Union Plaza campaign to build a 6 acre urban park from 'O' Street to 'R' Street between 21st and 22nd Streets as part of the Antelope Valley Project.  Timeless Tiles program created to raise endowment funds for Union Plaza and the parks system
Successful $350,000 Antelope Park Rose Garden Renovation & Hamann Rose Garden completed
2007
Wins "My Community My Choice Challenge" after receiving the greatest number of votes from Alltel customers. The Foundation received $10,000 worth of park benches, trees, picnic tables, and more park supplies. ALLTEL presents $15,000 donation to Foundation
2006
Joined Gatekeepers to raise awareness about community planned giving opportunities
Unveiled a new logo and website
Announces Antelope Park Rose Garden Renovation Campaign
2005
Hanna Keelan Associates develops strategic plan for 2005-2008
Successful $1.7 million Sunken Gardens renovation campaign is completed & rededicated
Secured a 228 acre tract of land, valued at $1.2 million from the Martin Family, deeded it to the city, Pioneers Park Nature Center conservancy expands to 668 acres
Offered rewards for information about vandalism at Highlands Golf Course, Jim Ager Junior Golf Course and to the Cupid statue in the Antelope Rose Garden
2004
"Park it at WOODS" successful $650,000 campaign for improvements at Woods Park & Tennis Center
Liberty Plaza is established to recognize Foundation's major donors & Golden Friends
Foundation received a donation for the renovation of Kontras Park and established an endowment for ongoing care of the park
Successful Fleming Fields Recreational Sports Park campaign completed & dedicated
2003
"Polishing the Gem" campaign launched to raise $1.7 million to renovate Sunken Gardens, including establishment of One Flower Forever and Paving the Path programs
East Campus Community Organization fundraising campaign for McAdams Park, Foundation serves as fiscal agent
2002
Entered an agreement to sell pickle cards to Big Red KENO; proceeds used to support renovation of Sunken Gardens, acquisition of land at Pioneers Park Nature Center, and other projects
Secured grant & provided matching funds to purchase two ADA golf carts for Jim Ager Jr. Golf Course.
Funding for Stephen C. Schleich Park was donated to the Foundation
2001
"Kuklin Kids" Campaign launched to strengthen swimming programs at Kuklin Pool
Students from Lincoln Southeast High School began fundraising campaign to secure $300,000 to build a new "place for all children to play together" -- the Antelope Park Playground
Secured a grant from Baseball Tomorrow to support Fleming Fields Recreational Sports Park
1996
Supported the Holmes Lake Dog Run Campaign. This campaign raised money to create a dog park, Rickman's Run, east of 70th Street across from Holmes Park
1995
Land for Schwartzkopf Park was donated to the Foundation and deeded to the City. It is now a 0.4 acre neighborhood park with a playground and basketball court
Youth Golf program "Sticks for Kids" implemented at Jim Ager Jr. Golf Course
1994
Lincoln Parks Foundation & the Foundation for Lincoln Public Schools worked on a joint project raising money for playground equipment for Elliot School & Norwood Park
"Parker Rex" Campaign launched, introducing the Department mascot "Parker Rex"
Supported Green Team, a summer youth employment program to assist in park maintenance activities, summer recreation programs, and playground construction
1993
1st Annual LPF Golf Tournament held at newly-opened Highlands Golf Course
Veteran's Memorial Garden Advisory Council joins LPF as affiliate
"We Love Our Parks" fundraising campaign launched -- 1st community "call to action"
1992
The Lincoln Parks and Recreation Foundation is established. Created as a formal channel for gifts to the Parks and Recreation Department with tax advantages for donors. The Founding Board of Directors: Dr. James Rickman, Marilyn Olson, Clancy Woolman, Fred R. "Bob" Sikyta, Robert A. Helm, Arlan Stromberg, Phyllis Pauley, M.E. "Bus" Whitehead, and Bill Blake.
Important Tax Information
The Lincoln Parks and Recreation Foundation is a recognized 501(c) 3 organization under the Internal Revenue Code of 1986, as amended. You are encouraged to seek professional advice for personal income tax questions to determine potential benefits for charitable donations made to the Lincoln Parks and Recreation Foundation. If you require a receipt for any donation made to our organization for tax purposes please contact the Parks Foundation at (402) 441-8258.